http://www.peterjonlindberg.com/laucala-fiji/
I think I found the Garden of Eden! Literally. It does exist and it is called #
Laucala Island
Resort.
Red Bull
's founder Dietrich Mateschitz bought the 5-km-long, 3,500 acre, private island east of Taveuni, Fiji from the Forbes family in 2003 and in 2012 he opened the property to the public as hmm! the most exclusive resort you will ever find. For just south of $4400 per night (off season of course) guests of the 25 villas hotel enjoy pristine beaches, turquoise water, lush tropical grounds, spectacular cliff top views and have access to 18 holes of golf, a private airport, multiple private yachts, five restaurants, world-class diving, horseback riding, surfing, spa, a man-made lagoon with a glass-cube lap pool ... you get it. You want it; they have it!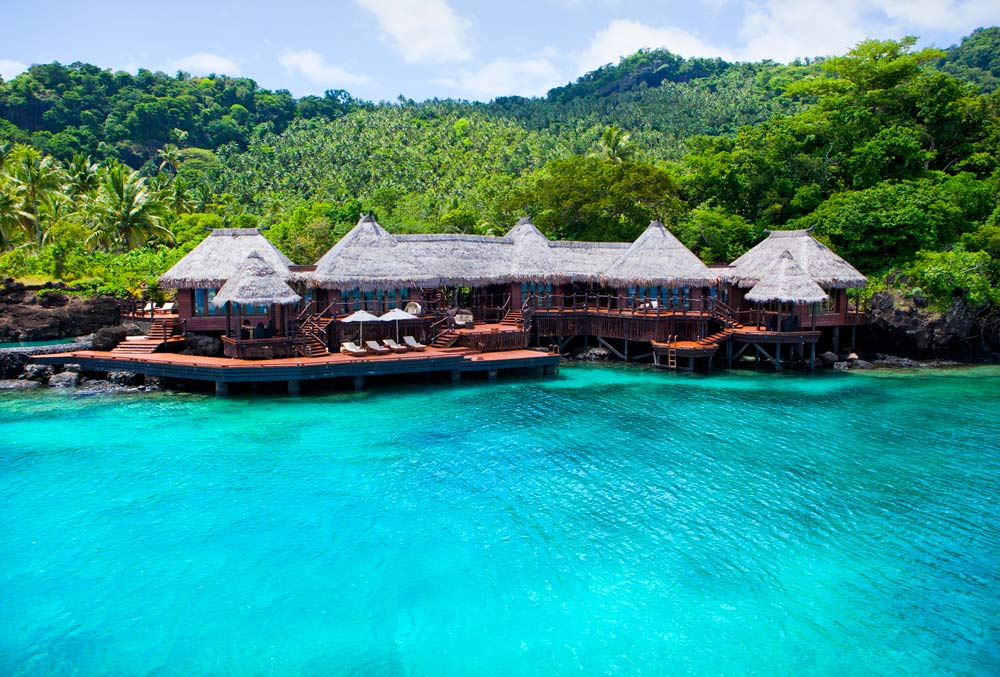 Each private villa is individually adorned with furnishing from Fijian materials and includes a private pool, outdoor living area with indoor and outdoor stone tubs -- the views, however, are complimentary!
Now, if you a reading this post, odds are you are not at Laucala (same here!). As disappointing as that is, if you want to channel some of that awesomeness into your own home, here are few options that should bring some tropical mojo into your home, even if you live, oh! let say in Ohio and you do not have those amazing thatched roofs:
Lotus Capiz Shell Tea Light Holder in Dark Amber design by Torre & Tagus
$17
burkedecor.com
But I horribly digressed. Back to Laucala Island Resort! What cannot be replicated is the amenities of the place, from the spa to the manicured grounds, to the incredible rain forest surrounding it.
http://www.lhw.com/hotel/Laucala-Island-Resort-Laucala-Island-Fiji
And if that is not enough the resort is thriving on its own eco-sufficiency. They grow their own livestock and vegetables and hand make all the guest products on the island using the surrounding natural resources.
Not surprisingly the meals, drinks, and service at the resort are an experience on its own.
The menu at the main restaurant is under the control of Executive Chef Anthony Healy who was recently quoted by the
Spafinder
as having explained that "With all these shows on TV, guests now know, or at least think they know, more about food, so everyone really needs to be on their toes. Guest expectations are different, guests are interested in the kitchen, what's going on back there? Who is the chef? Can they meet them? Years ago the chefs stayed in the kitchen and the guest didn't want anything to do with going behind the scenes." And he apparently embraces his position as the ambassador of the hotel with aplomb.
Here is the actual recipe for the dish minus the sand and shells:
200 grams of coral trout fillet skin off,
1 tbsp red onion
1 tbsp diced celery
1 tbsp diced tomato skin off
1 tbsp diced cucumber
1 tbsp diced pineapple
1 tbsp diced avocado
1 tbsp diced capsicum
1 tbsp diced coconut milk
2 tbsp lime juice
1 tsp chili diced no seeds
1 tsp coriander
1 tsp mint
For tostadas:
473 grams plain flour
2 grams salt
2 grams baking powder
59 grams of pork lard
177 grams warm water
Ceviche
Add lime juice to coral trout and leave to cook in juice for 2-3 min just until the edges go white, add all the vegetables and mix thoroughly, finish with fresh herbs, salt and coconut milk, serve immediately
Tostadas
Mix flour, baking powder, salt and lard in a mixing bowl, Add warm water slowly until smooth dough is formed, rest for 20 minutes in fridge, roll out to a thickness of 5mm, cut out dough with a ring cutter 15cm in diameter. Fry at 180 degrees Celsius until golden, season with salt and espelette pepper powder
All and all "paradise is found", I say. Happy travels everyone.
XOXO, mimi
Credits: all photos are from http://www.laucala.com/ unless otherwise attributed in the caption.
Affiliate Disclosure: I am grateful for your friendship, following and comments. Please note that this post contains affiliate links, which means that I may get a very small commission if you decide to purchase from one of the retailers by clicking on the link. More information about affiliate links is available here. I only recommend products that I use and love myself and I give you my honest and sincere reviews and suggestions.Thank you! :)